WHY OUR SHEDS ARE BETTER:
First and foremost, we build our sheds for you. We design them for you, after we talk to you. We spend the time needed to understand your needs and we work with you to achieve that.

After all, they are your sheds and will be in your backyards for many years.
It may seem obvious, but few shed-makers do it...

Our sheds are SOLID.

We use full size studs (70x35mm) and lots of them.
(the studs are the vertical bits of wood that hold the shed up and together)

Our exclusive modular system allows all the components of the shed to be supplied in a size (and weight) that can be easily handled by two able-bodied people. That makes installation easier, safer, and quicker. Typically, a large shed will take 2 people 4 to 6 hours max to assemble.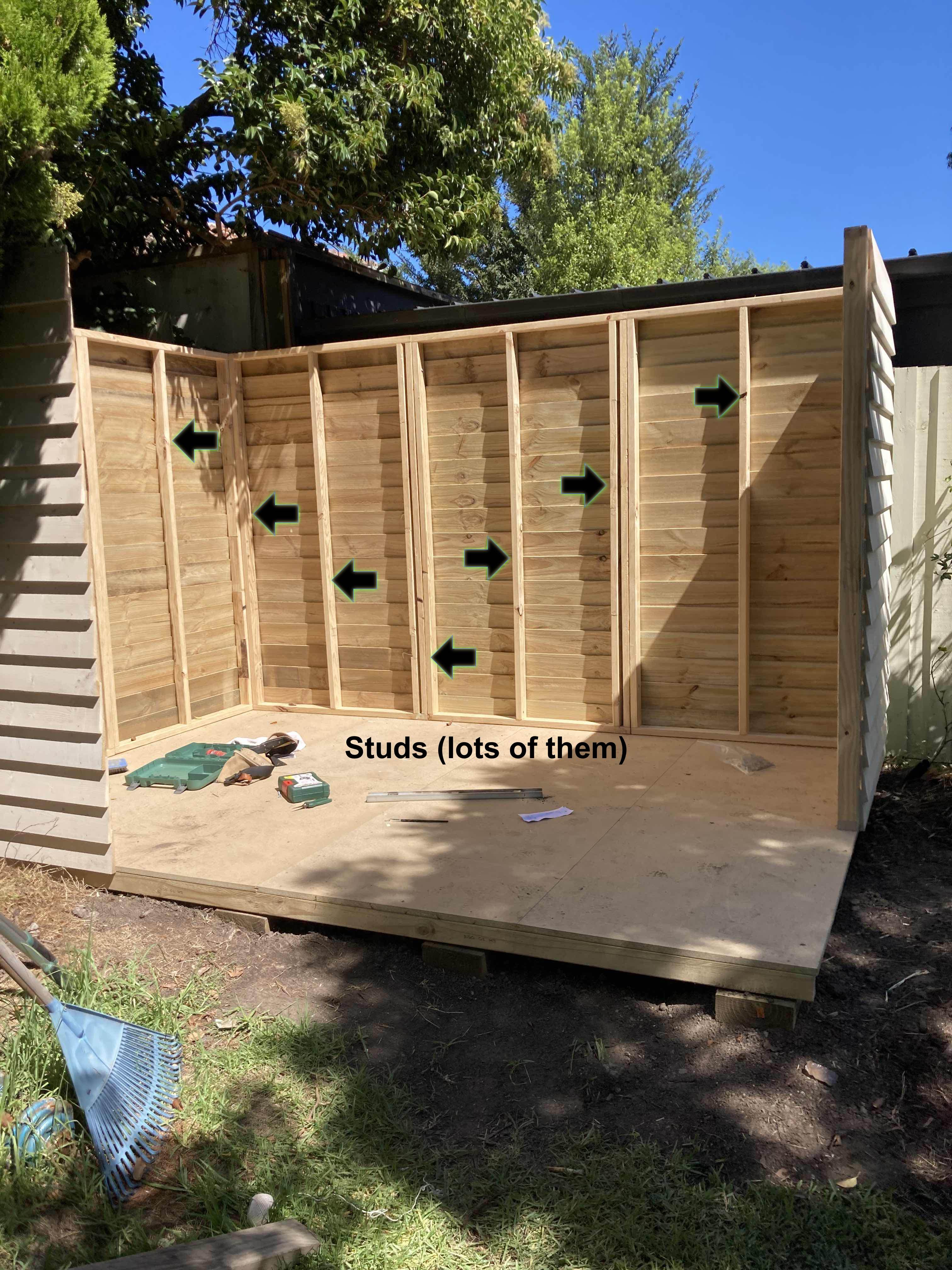 simple and strong module system

note the strength of the walls due to the many studs.
3 more modules will complete the shed.
A high density floor system is included with all sheds: we use Orange Tongue flooring on treated pine bearers.
as much as possible, we use Australian timber and materials.
We are proud to be Australian manufacturers and as such we support local suppliers and producers.
In particular, our cladding ( treated pine palings) has been selected as a local, sustainable alternative to imported Cedar cladding or any hardwoods. Safe to use, and tougher than many alternatives. It blends beautifully in all backyards!
We do not rely on expensive imported materials.
Everywhere we can, we work to reduce our carbon footprint. Waste reduction strategies are in place, and used. 100% green power is used.

We use the same honesty in the way we make our sheds. No gimmick, no tricks, just old fashioned hand-made techniques.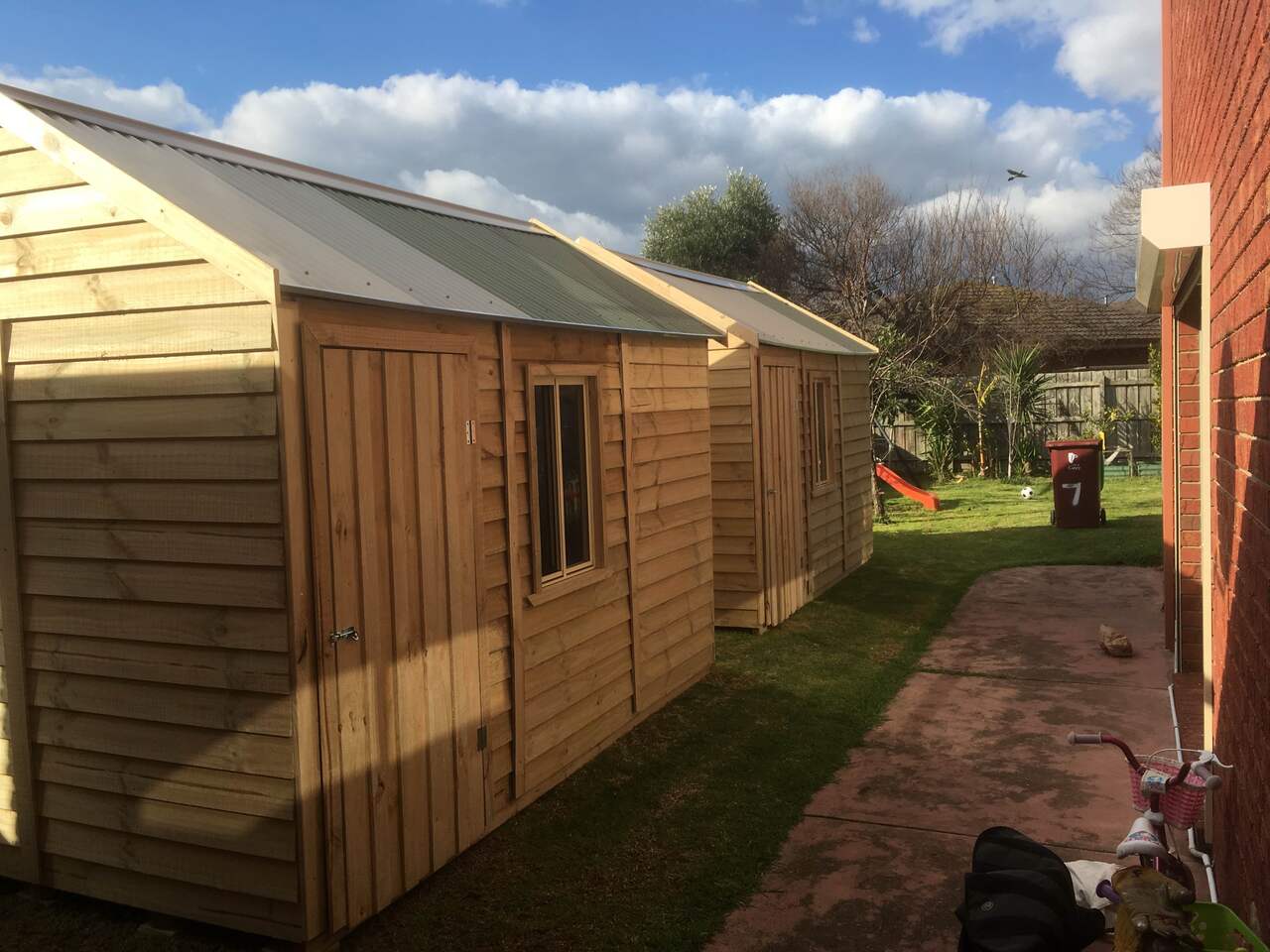 why have only one shed when two can fit?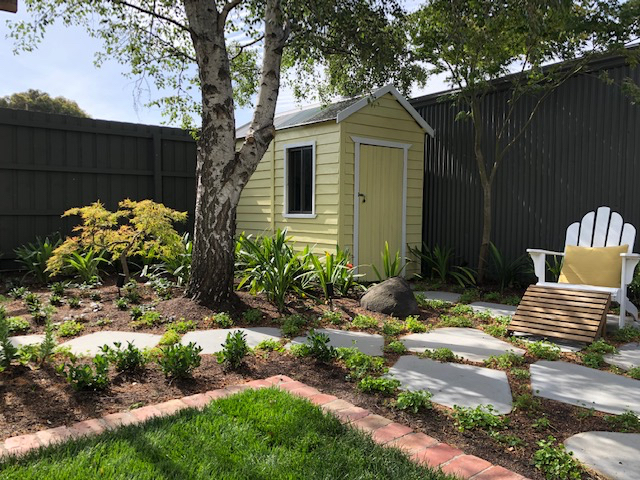 dreamy decor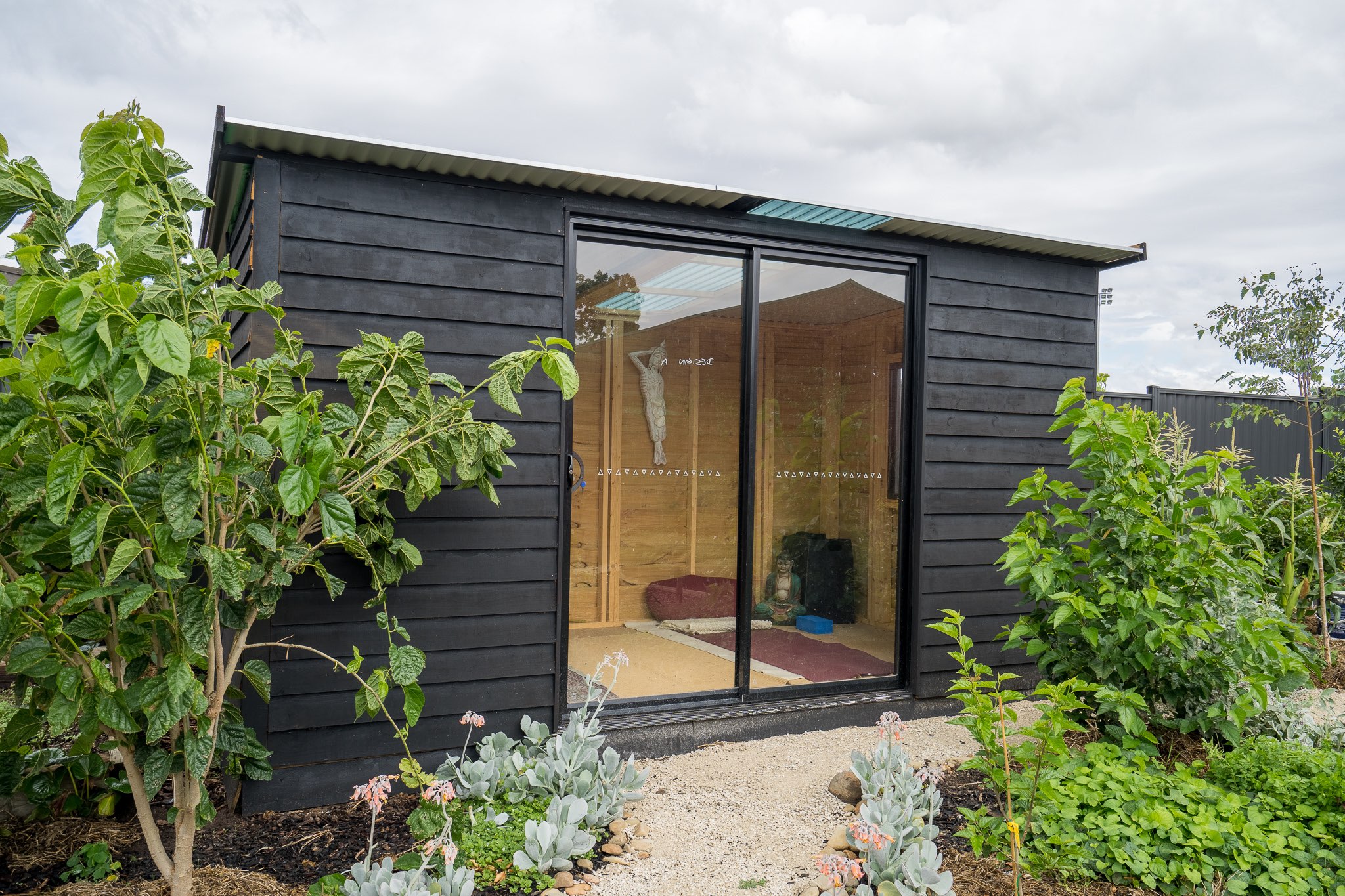 serene retreat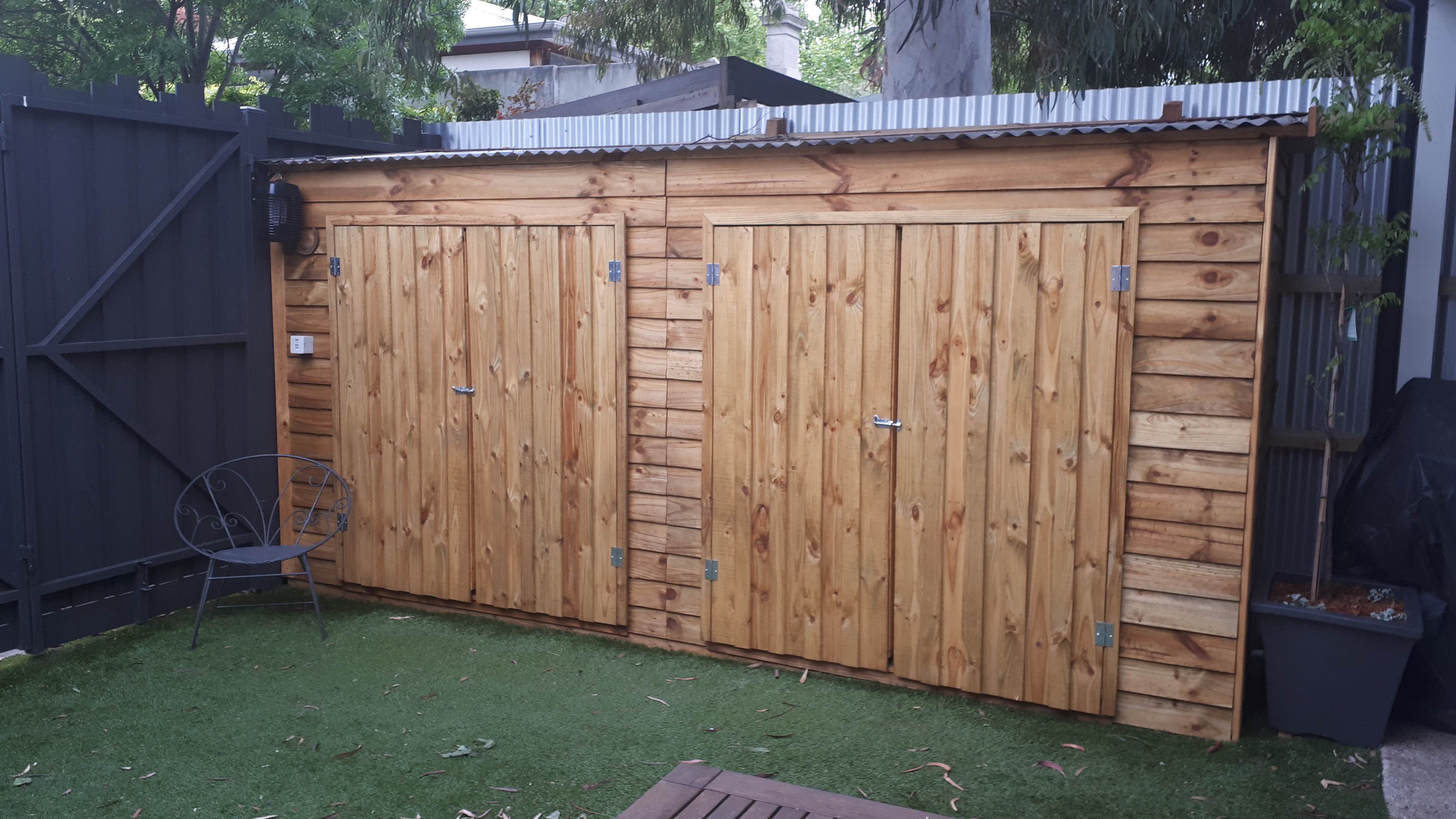 smart storage ( linseed oiled )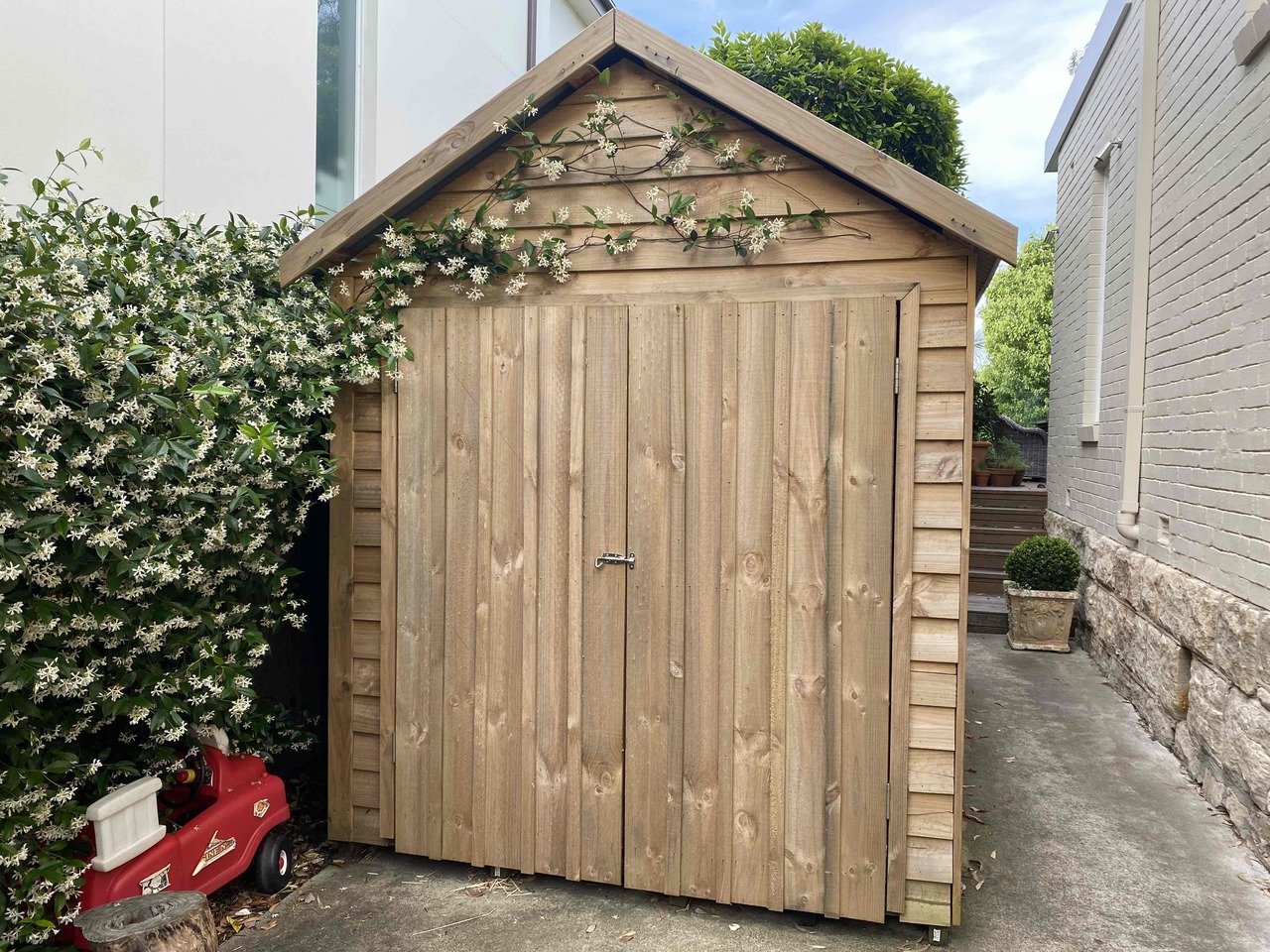 flower power

CARING FOR YOUR STRUCTURE:
A little bit of care will go a long way to ensure that your structure brings years of satisfaction!
The sheds, cubbies, or pet enclosures should be placed on compact flat level ground.
Slabs are not necessary. They can be placed directly on the ground if you use our floors. Talk to us for more information.
The structures are made using treated pine palings. They will cope well with normal backyard conditions.
The structures sit on orange tongue flooring. We use treated pine bearers under the flooring. That allows the structures to be installed directly on the ground.
Please Note!!
Unique and individual markings may appear on timber and should not be considered as defects. Instead they give wood a unique identity which enhances its natural beauty.
The timber we use also has saw marks and sometimes a robust roughness that belies its humble origin.
It is however fit for purpose, and as the little girl said when her dad patched the knot hole:" Daddy, that was my spy hole!"